As much as the servers and workstations, the network is an integral component of many overall systems. This can be as simple as a Local Area Network ("LAN"), or may be more complex, including components of Wide Area Network ("WAN"). We choose the best of breed components to ensure that the solution we offer you is tailored to your specific needs.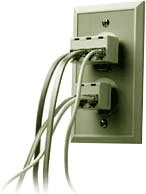 It is important for any connected set of computers to make the most of the network topology that is available to them. Andviv can design and (if desired), assist in the implementation of a network solution. As soon as the networking of computers is required, many other issues need to be addressed. Topics such as service usage patterns, projected bandwidth growth, resilience to outages, all need to be considered when a network is evaluated.
One of the most visible parts of any network is the cables. What is not seen, "under the hood", so to speak, are the hubs, switches and routers that are essential to the overall stability and availablilty of the network. These are the components that must all peacefully co-exist for a system to work well. A bad network may be saturated by its own internal chatter, leaving little bandwidth for user applications.
We can assist you in all of the following areas:
Local Area Network Design
Wide Area Network Design
Network Health Checks
Router/Switch Configuration
Remote Access Networks
Cable Plant Installations
Monitoring and Diagnosis
Wireless Networking. (802.11)