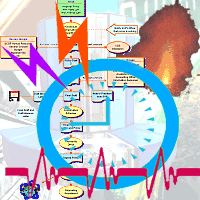 IS IT SAFE?
This is the question that you need to ask yourself. Like most of the important things in life, we need to safeguard or insure against the unexpected. With computers, the probability that some disastrous event will occur is not exactly a number near zero. The manufacturers assume that a computer will last for about five years in a production environment; keep in mind that this is only an average estimate. What you do not want is to be the exception that proves the rule. A disaster plan will assist your business to return to operational level in the shortest possible time.
Andviv can help you draft and implement a disaster recovery plan. By evaluating business work flow, performing a system level audit of equipment and discussing your business needs with you, we can provide a disaster plan that is simple to follow and has step-by-step instructions.
The plan itself is not as important as is the familiarity brought about by exercising the plan on a regular basis. A plan left on the shelf from the day it was created and not taken out for a spin quickly grows stale and outdated. In order to be prepared for a disaster, you need to have an up-to-date package of both the business' processes and data. We can assist by performing readiness tests, to ensure that you have the "hands on" training to recover your business IT systems.
In the immortal words of Inspector Harry Callahan, "Do you feel lucky...?"