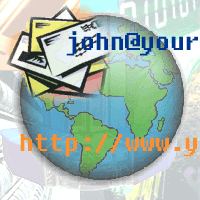 With the Internet, the world can come knocking on your door. The services that the Internet can provide are limited only by what you can place in a piece of fibre optic cable. It is now more common for businesses to be able to provide many value-added services than ever before. For you, an online presence can provide access to a previously untapped marketplace.
Where once it was expensive to maintain a web site (most commonly available via the WWW monica), nowadays it is relatively inexpensive. Combine the lower cost to obtain an online presence with such services as interactive ordering and stock/shipping management and even a traditional "bricks and mortar" establishment can profit from an online web site.
The benefits do not stop there. If you elect to own your own domain name, you can then provide branding and recognition for your business. This is as simple as securing a suitable domain name and then deploying the services you need. Almost every person has access to an e-mail address nowadays and using something like abus1245@hotmail.com lacks any differentiation. With your own domain name, you have the flexibility to have many descriptive e-mail addresses and a web site that is uniquely identifiable as yours. sales@yourbusiness.com, www.yourbusiness.com or even yourbusiness.com enables you to open your doors to the whole world.
Andviv can assist in domain name selection and registration/licensing, web site design and implementation, e-mail configuration, selection of hosting services or configuration of an on-site server that is permanently connected to the Internet. Whether you select a Microsoft centric approach or an Open Software solution, we can provide the expert advice and assistance to make your first steps as painless as possible.