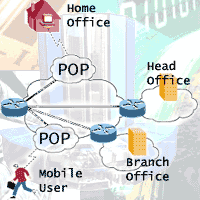 Andviv understands the need for a mobile work force. People trying to do as much as they can whilst being tied to the one location is less than optimal. By deploying a remote access capacity, mobility does not mean being isolated from the office.
Depending upon the requirements, it is possible to provide external access to the internal systems in a secure and managed way. This can be as simple as a dedicated dial-in account, or as complicated as a Virtual Private Networks (VPNs), deployed using the Internet as the communications channel. This allows the extension of your internal network to other physical locations without the need to provide unsecured access.
This type of technology allows the connection of branch offices and/or home offices, as well as users on the move with laptop devices. In addition to the remote access of the local network, the capacity to provide external access for limited services may be employed to provide services such as e-mail and web services remotely to unsecured systems, a.k.a. Internet cafés. This permits access in a secure fashion whilst "on the run" .